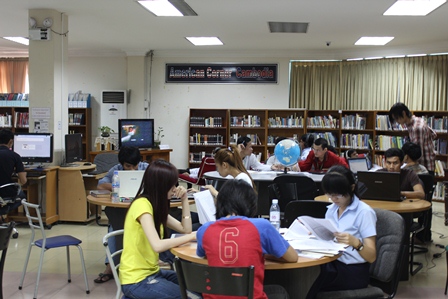 Introduction
An American Corner is a joint partnership between the United States Embassy in Cambodia and a host institution, that promotes better cooperation and understanding between the United States and Cambodia through the exchange of open, accurate and factual information about the United States in a variety of formats.
There are currently four American Corners in Cambodia. The first one is located in Phnom Penh at Paññāsāstra University of Cambodia (PUC), the second one in Kampong Cham at University of Economics and Mangement, the third in Battambang at University of Management and Economics, and the last one is in Siem Reap at University of South-East Asia.
The American Corners are staffed by bilingual Cambodian personnel, who will be available to assist patrons interested in locating specific information about the United States.
Collection
The PUC American Corner features a diverse collection of English language books and materials focusing on the United States. The collection provides current and reliable information on various subjects, including American studies, history, culture, business, law, politics and democracy.
There is also information on English teaching, including student advising materials, links to university admission and scholarship websites and TOEFL – SAT – GRE – GMAT test information. The collection also offers audiocassettes, CDs, VCDs, DVDs and videotapes and poster exhibits.
Facilities
The American Corner has several computers with Internet access. Three further computers are available for students to learn and practice English through the use of CDs, VCDs and DVDs. The American Corner also has five listening stations equipped with disc players for students to use for listening to English based material. As well, there is a big screen TV with a cable connection to access news and documentary programs. Channels available for viewing include: CNN, Channel News Asia, CNBC/UBC, Bloomberg TV, Animal Planet, National Geographic and The Discovery Channel. In addition, the American Corner will offer public programs to make information about the United States available to the Cambodian public.
Programs
The American Corner offers four main ongoing programs, including the Americana Quiz, Reading Club, Reading Contest, and Storytime. Students and the general public can take the Americana Quiz and participate in the reading contest at the corner at any day. The Americana Quiz aims to test participants' knowledge on a wide range of American subjects including culture, society, history, geography, government and politics. The Reading Contest, Reading club, and Storytime aim to foster a love and a habit of reading among children, teenagers, and young adults. The Reading Club is open every Sunday morning, while Storytime is on Sunday afternoon.

Moreover, the corner organizes several special programs, such as poster exhibitions, workshops and conferences on various topics. American Corner hosts between fifteen and twenty programs every year. There are more than ten-thousand patrons benefits from the corner's collections and programs each year.
Hours
Monday-Friday
7:30 AM-8:30 PM*
Saturday and Sunday
8:00 AM-5:30 PM*
Contacts
Paññāsāstra University of Cambodia
#184 Norodom Boulevard, Phnom Penh
Phone: 010 50 21 21/ 011 50 21 21
E-mail: This email address is being protected from spambots. You need JavaScript enabled to view it.