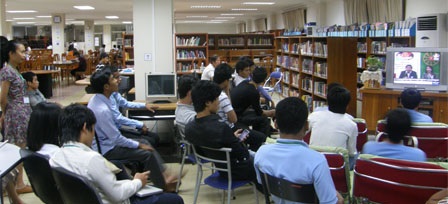 Items in Print and Audio Visual Collections: the PUC American Corner features a diverse collection of English language books and materials focusing on the United States. The collection provides current and reliable information on various subjects, including American studies, history, culture, business, law, politics and democracy.
There is also information on English teaching, including student advising materials, links to university admission and scholarship websites and TOEFL – SAT – GRE – GMAT test information. The collection also offers audiocassettes, CDs, VCDs, DVDs and videotapes and poster exhibits.
eLibraryUSA: E-Library USA gives visitors of Information Resource Centers, American Corners, and other American Spaces around the world access to information that Americans find at their public libraries. We have a broad range of resources about learning English, American history and culture, health, business, and more.