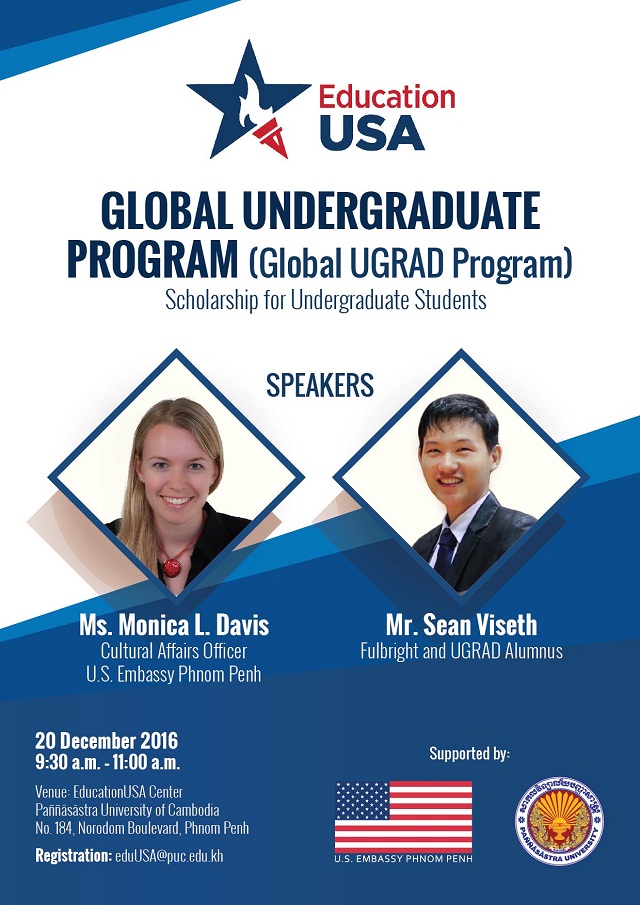 Global Undergraduate Program (Global UGRAD Program)
 Scholarship for undergraduate students.

Speakers:
Ms. Monica L. Davis, Cultural Affairs Officer, U.S. Embassy Phnom Penh
Mr. Sean Viseth, Fulbright and UGRAD Alumnus
Date: 20 December 2016, 9:30 a.m. – 11:00 a.m.
Venue: EducationUSA Center, Pannasastra University of Cambodia, No. 184, Norodom Boulevard, Phnom Penh

Speaker biography
Mr. Sean Viseth is a Fulbright graduate from Worcester Polytechnic Institute (WPI), majoring in Data Science.  He got his Bachelor's degree in Computer Science from the Royal University of Phnom Penh (RUPP).  He was a programmer at ACLEDA Bank Headquarters prior to pursuing his Master's degree at WPI.  This past summer, he interned at HP Labs as Research Associate working on big data analytics in 3D Printer division.  In addition, he's been an active volunteer at various organizations including FUSAAC, Microsoft Students Partner Cambodia, and IT Center at RUPP.


Visit U.S. Embassy in Cambodia website for more details.