Thursday, 3 August 3017
10:00 a.m. – 11:00 a.m.
American Corner Cambodia - PUC
Paññāsāstra University of Cambodia - South Campus
No. 184, Norodom Blvd. (South of Independent Monument)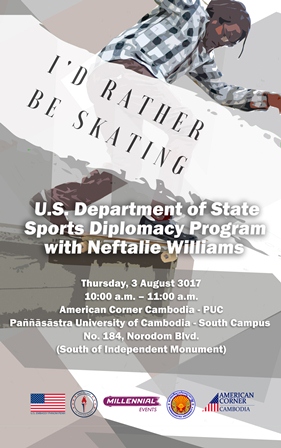 SPEAKER BIO:
Neftalie Williams lectures and conducts research at the USC Annenberg School of Communication and Journalism in the United States and is currently a PhD Candidate at the University of Waikato in New Zealand. He is the inaugural 2017 LA84 Foundation-USC AISMS Fellow.
His work involves the analysis and documentation of the effects of globalization on issues of diversity, identity and youth empowerment, using the lens of skateboarding and emerging sport culture. Neftalie Williams' also teaches USC Annenberg'sASCJ 420: Skateboarding and Action Sports in Business, Media and Culture.
Neftalie is the Co-Chairman of the College Skateboarding Educational Foundation (CSEF), former Chairman of Cuba Skate and the recipient of the 2016 USC Black Alumnus Award. His work on skateboarding diplomacy has been featured in PBS News Hour, The Atlantic, Voice of America, Vice Sports, the Washington Post, and at the Kennedy Center in Washington, D.C.